The Writer's Ring
The Writer's Ring is open to all web sites and personal homepage dedicated to the art of writing. Poetry, fiction, non-fiction, essays, screenplays--no matter what your write or what your writing style is, this is the webring for you!
The only sites which I won't allow into the ring are those that promote violence against any group, hate, racism, or illegal activity. Sites which contain 'adult material' are allowed, pending review. If your site contains blatant pornography, it will be NOT added to the ring.
Ring Members: Click Here To Edit Your Site Information
To join please do the following:
1. Download the webring graphic below to your computer and then upload it
to your webpage server. You must put it in the same directory as is the
webpage you are putting the webring HTML code on or it will not show
up on your site. Sites with broken images will not be added to the ring.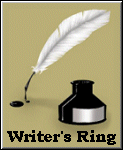 2. Fill out the form below: